Apologies now to everyone who has sent me cards and hasn't received a proper thank you in the way of a trade post. I hope to catch up when I can, as my incoming scans folder has been piling up in the recent months. I'll do my best to get posts done in the order received, but it's not entirely likely that will happen. Those whom I've traded with multiple times will likely get one massive post.
Starting out, we catch up with a trade from
AJ of The Lost Collector
. I mentioned to Gavin (of
Baseball Card Breakdown
) that I had a card I was looking to offload, and he suggested that I reach out to AJ,
so that's exactly what I did
.
A nice collection of Hall of Famers (Mr Cub and the Hawk), a couple PC guys (flying Darwin Barneys are the best Darwin Barneys, Castro turning a double play, funnyman Ryan Dempster), and a couple additions to my Cubs All-Time list (Beef Welington, Dolis).
The Barney and Castro cards make me want to start a new collection... Players defying gravity: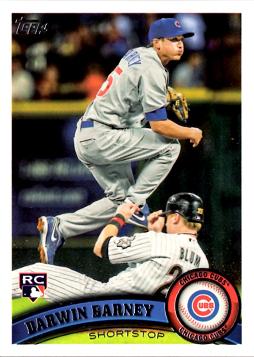 I think this one would be pretty fun, centering around middle infielders and outfielders (Kevin Kiermaier comes to mind).
New to the CAT in this group are Hill, Johnson, Lahair and Pena.
James Russell is an upgrade, as I only had him in a Braves uni. Shark and the great oddball of Ryno make their way into their collections, Sappelt is new to the CAT. And here we have a diving Schierholtz. [A good start to the flying/diving collection already!] Still can't get enough of Schwarber staring down a longball.
Soto goes to the PC, Stewart, Sweeney, and the polarizing Theriot climb into the CAT. Always a good day when another amazingly mustached Villanueva makes its way into the 2014 binder. The Marquee goes toward completing the 100 Years at Wrigley set, and Sammy finds his way to the PC.
Speaking of the marquee, nice job, Topps. It was green. Not red.
I'm a sucker for relics, so the Sammy swatch is just swell!
AJ also hit some of my non-Cubs PCs (which I'm currently working on cataloging). Quite the group of All Stars! I was trying to find another category to put them all in, such as Silver Sluggers, but Votto missed out there. Gold Gloves? Trout and Mad Bum missed those.
MadBum came out of a 2015 issue of SI Kids (which I should start grabbing for the kiddos). I'm working on the puzzle set for Buster Posey (2012 Triple Play). Trout, Goldy, Joey and Yadi all find new homes in the PC's. Lets hope we never see Goldy in a Mets uniform, as the orange doesn't work for him (although, knowing the DBacks, it could make its way into their colorways in the future).
Lastly, we have an insert from 2012 Topps Update, showcasing that years NL ROY, and All Star, Bryce Harper, who of course goes on to collect Silver Slugger and MVP awards down the road, while sporting some of the best hair in the game.
Thanks again, AJ, for the great cards!
Many of these catch up posts will be like this... once I get on a "current" posting schedule, i'll likely have more entertaining stuff to post :D